FL#41096
Our latest product line features an industry leading design uplift value (-195 lb./sq. ft) that doubles that of any competitors in the market. All of our products meet the necessary requirements for the latest FBC, and has received a Florida Product approval number. Like everything we do here at ECM, we used innovative manufacturing processes to recreate the standard of Gooseneck Ventilation systems. We make it faster, stronger, and with greater precision to create a product we can stand behind, every time.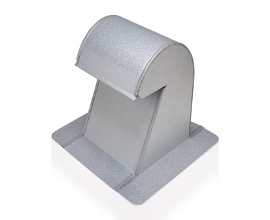 Commonly Used Color's:
Our Goosenecks are offered in the 8 most popular tile & shingle colors! Tan, Terracota, White, Brown, Black, Charcoal, Bronze & Grey
Laser Cut for Precision:
All of our Gooseneck Faces are made with laser cutting precision, giving you a consistent product that we proudly stand behind.
Product Features:
-Prefabricated nail holes in every corner
– Rounded edges for safety for those handling the product
– A recycled Plastic animal trap netting of 1/4″ diameter has been implemented in place of the commonly corroding metal mesh
– Made in all industry standard industry size width's for both Tile and Shingle Roof's